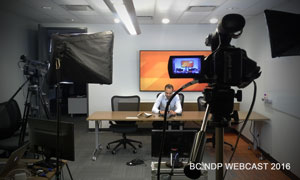 ---
LIVE MULTICAMERA VIDEO RECORDING ( OR WEBCAST
)
Full Coverage filming of live events




Its been standard operation procedure to for me for many years to shoot all live events (Music, concerts, weddings) with 2-4 HD cameras as this gives me both a rich vairety of shots to edit in post later .... but it also gives me another shot to cut to when a camera succumbs to power loss, shakes. guests stubling into it coughs, sneezes laughs, large hairdoos or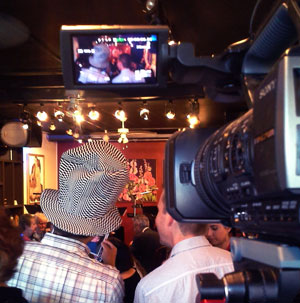 ...... large hats blocking the shot.

This way I can capture a recording of the full show or presentation without Gaps or interruptions while providing the project with a lot of material to take back to the studio to edit with.

.


Main Camera(s)
One (or more) Professional Cameras with a Experienced Live Operator for wide and closeup shots. framing zoom, pans, following the action in real time, mobile shooting.
Secondary (static) cameras
1-3 Mounted GoPro or Small Camcorders -
Cameras for non intrusive shots that don't change - usually a wideshot / safety shot first, then strategic stage placement
Audio Recorder for Live Music Performance
to take Soundboard feed (if available) and / or stage sound in addition to camera audio. Recording provided to the client post show to master for sync in final video.
Wireless Lav Mics for Spoken Word Talks
I use for spoken word recordings - talks, seminars, keynote speakers, live power point business presentations. To get clean spoken audio without audience chatter.
(Optional) Webcasting or IMAG
Camera video feeds fed into Audio and Video mixers then to laptop connected to the internet to a webcasing service such as Facebook live - or just the video feed alone for IMAG
IN STUDIO EDITING AND POST

All recorded footage from all cameras is synced and edited in post with additional assets like Power Point presentations, remastered audio tracks, logos, graphics, licenced music and "packaged" with on-screen titles and motion graphics.credentials and call-to-action statements websites and contact info. Video is then transfered digitally to the client in whatever format they need to upload share and release to the public.